Catchy kann? Yeah, sume orang pun suka pakai that saying. You know, yang "Live everyday like its your last day". Kann?
And as for me, I've never agreed on that so then I've watched this movie "I Think I Love My Wife" and finally baru lah I jumpa a saying yang I agree. Dalam movie tu Chris Rock ckp "Chances are, you might not get hit by a bus and have to live with the choice you made for the next 80 years". Yes, that one I agree.
Tapi, enough about us. Yang sebenarnye I think a saying yang orang semua lebih patut pakai is "Macam mana kalau dia mati esok?". As in, even if you have a fight and you know that you are right tak boleh ke mengalah? Ye lah, mana lah tahu that person you had a fight with akan mati esok. Kann?
Basically, what I'm saying is that tak salah sacrifice sikit demi our parents, friends, loved ones. Tak salah. Tak salah for maybe just everytime they ask you a favour or they don't agree with your decision, you listen to them. Maybe you memang tak suke, but just think about it, What if they died tomorrow?
Yelah, mcm dlm drama-drama Melayu, everytime dia buat salah dekat mak dia besok dapat call mak dia dah meninggal. Walaupun agak cliche, tapi apa salahnya if we take a lesson from drama-drama Melayu ni. Thats all they got anyways.
And if you still want to make it about you, instead of saying "What if I die tomorrow and I just want to enjoy my day", cuba fikir, "What if I die now and don't get the chance, to apologize, to make up, to see, to say Hi, to let them know that I love them". What if that happen.
BTW, I just got back from kampung. OK, imagine this, No TV, internet and relatives. WTH should I do? Haha. Tapi takpe lah, sacrifice lah sikit. And then Umi asked me to go to siapa punye tunang entah. Waktu tu I was in a dilemma to choose between nothing to do and nothing to do. LOL. Anyway I went there and walaupun boring gile at least dpt makan and tak payah tolong masak kann. Haha.
Si pengantin,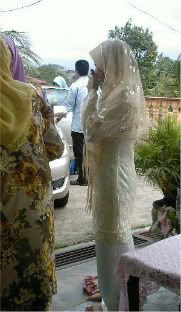 Ada orang tanya pengantin tuh siapa 'tu' (my mum and me). Dia kata,
"Tak tahu lah. Sedara jauh kot".
Kira kitaorg ni macam party crasher la. Haha.